As I was getting my nails painted this past weekend for a wedding, I started to ponder all these thoughts. Does a light or fan work better for drying nails quickly? What is the one must-do task for perfect nails? Is it the lotion? The cuticle cream? What is it?! So I asked the sweet ladies of 
Native Polish
 for some tips.
(Q) What is the very first thing you should do before you paint your nails? Like without this step, you will have a manicure fail?
(A) Trim those cuticles! Not only will you feel like you lost a few lbs, but your manicure will look 10x healthier and fresher.
(Q) Are there any secrets to getting your nails to dry faster?
(A) Old school fans work better than fancy drying machines. We're lucky in that Native Polish dries quickly but our best tip, take the 10 minutes. We're all so busy every second of every day, so treat a mani with the respect you deserve – half an hour for YOU. Sip on some wine, read a magazine, talk to the person next to you or simply let your mind wander while you trim, file, polish and dry. Those few minutes of solitude will be gone before you know it, and you won't risk smudges.
(Q) What is the must-have color for this summer?
(A) We're all about the blue, it's big for this season. The Fly represents what every woman needs and can soak in this time of year – fresh air and some Vitamin D with a luminous backdrop in our locals-only escape.
(Q) What is the one tool/item you need to keep your nails looking top notch?
(A) Pretty simple – a bottle Native Polish. It's amazing what a quick touch up can do to maintain a clean, fresh mani and instantly elevate your mood. And you don't need anything special to do it – we touch up our nails at the coffee shop, at our desk on a conference call or even at a stoplight when need be.
I totally agree in the actually owning the nail polish you have painted on your nails. Even if you get a manicure, bring a color from home. That way if there is a chip, you can touch it up!
(Q) Short or long? Which is better?
(A)  We're all about short – for us they are easier to maintain and work better for our lifestyle.
(Q) Ok enough technical questions, tell me more about ya'll and the brand!
(A) We're sister in laws with a supreme love for this city and our nails, so last year we decided to marry the two. With young daughters at home coveting our every move, we set out to develop a line of polish safer for them and while doing so, one that exuded the passion for the city that we and all women of the Crescent City have.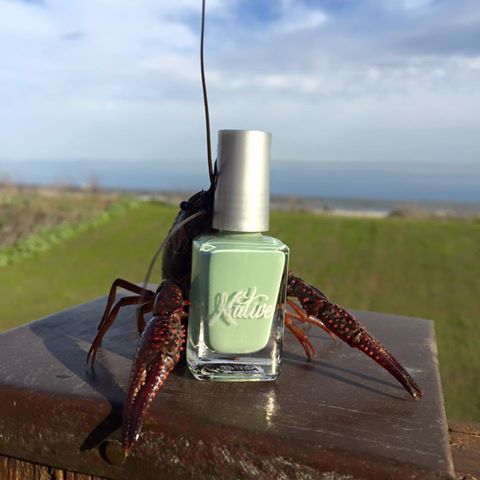 Native Polish
 is 5 free, vegan, not tested on animals and made in the USA. Each color is designed to represent the unique attributes of NOLA – from Hot Sauce, to Potholes to endless Revelry and of course, Happy Fest.
All polishes come ready to gift in an adorable burlap bag and a list of retailers can be found on their 
Facebook page, @NativePolish
. With all of the stressors we deal with on a day to day basis, a quick polish change can be an instant mood elevator and we hope that all women living or visiting New Orleans can find a hue that speaks to them and adds to their spark.